Schools of vendace meandering the open waters of Ärjänselkä serve to fatten the fish that prey on them. Pike are abundant in the bays, while zander, perch and trout thrive on the sandy banks in mid-lake.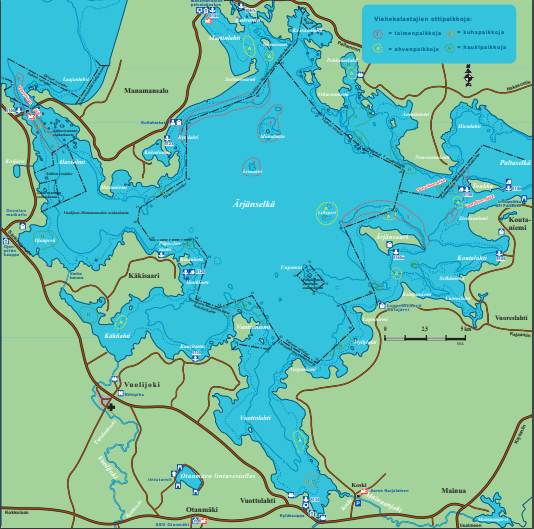 Pike and zander
The most well-known pike fishing grounds can be found around the edges of Ärjäselkä.  Troll fishers remember the shoals off Vuottoniemi Point, Myllylahti Bay, the underwater pits between Ärjänsaari Island and Lapinniemi Point, the tip of the shallows off Selkäniemi Point, around the islands in Pehkolanlahti Bay, and especially the southern side of Neuvosenniemi Point. Pike and zander are attracted by the abundant prey available in the straits at either ends of the open lake, for example at Kaivanto.  Vuottolahti Bay also provides excellent zander fishing grounds.
Perch
The shallows of Lilleperi that breach the surface in the midst of Ärjäselkä form its most well-known perch fishing grounds. Ice fishers gather at Lilleperi in the winter. In the summer, perch are caught in the open water by bottom angling. Try bottom angling around rocks and the curves of underwater sand banks. Popular ice fishing spots surround the open lake, in the bays at Vuottolahti, Käkilahti, Koutalahti and Pehkolanlahti, in the mouth of Martinlahti Bay, and in Kuivalampi Bay.
Trout and landlocked salmon
The bank off Ärjänsaari Island is one of Lake Oulujärvi's most well-known trout fishing grounds. Lure fishing is most popular on the northern side of the island, but the wind often dictates the most favoured side for anglers. The sand bank off Ärjänsaari Island is notably shorter than that off Manamansalo Island and Soiluanniemi Point.