Located close to the city of Kajaani, Lake Iso-Ruuhijärvi is popular among anglers who catch salmonoids using boats in the summer and by ice fishing in the winter. This managed 45-hectare recreational fishing area is located only 14 kilometres from Kajaani, yet feels like part of the wilderness. Road signs lead to the lakeside Kalamiestupa ("fishermen's cottage") from Highway 6 between Kajaani and Joensuu.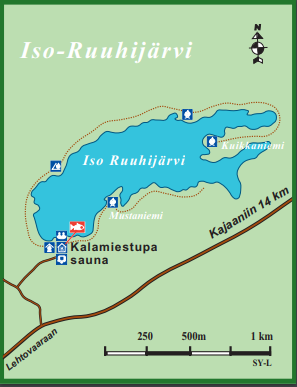 Surrounded by forest, Lake Iso-Ruuhijärvi varies both in depth and shape. A boat is the easiest means of fishing during the open water season. There is no need to row great distances to find fish, as most rainbow trout are caught at the western end of the lake, regardless of the season. On the other hand, you may discover fishing spots of your own in the peaceful bays at the end of the lake. Trails encircle the lake, and its many promontories offer excellent spots for fishing. The winter season usually begins by December at the latest, when the ice has grown thick enough to welcome enthusiastic ice fishers. The best time for ice fishing is during the sunny days of late winter.
Lake Iso-Ruuhijärvi is among the most popular destinations for fishing tourism in the Kainuu region, serving families, individual anglers and groups. Companies and private persons can rent the Kalamiestupa cabin, for example for small gatherings or team meetings. The cabin, which includes a sauna, fish-handling room, caravan park with electricity, 'kota' hut and piers for hire boats, is the centre for all fishing activities. Meetings for up to 20 persons can be accommodated. The trail circling the lake is equipped with resting spots. The lake is also a popular location for fishing competitions, both ice fishing for salmonoids and lure fishing by rowing boat.
Fish stock and maintenance
Rainbow trout is the most common catch. Catchable-size specimens are stocked in the lake throughout the year, and the largest fish are landed during tourism and fishing seasons. Anglers may also catch the occasional trout or whitefish. The perch is particularly eager to bite during the ice fishing season, and a fly fisher once caught a pike at 6.3 kilos. Crayfish licences for the lake are sold from 10 August.