Lake Syväjärvi is located at the heart of the Ukkohalla Sport & Relax Resort, in a hollow between the skiing slopes and the cosy cabin village opposite. Measuring 20 hectares and rich in rainbow trout, the lake is a particularly suitable place to start for families holidaying at Ukkohalla or for groups of anglers. Some holiday cabins have excellent fishing spots just a few metres from the door. There are few places where it can be so quick and easy to catch a fat and fierce rainbow trout on the end of the line.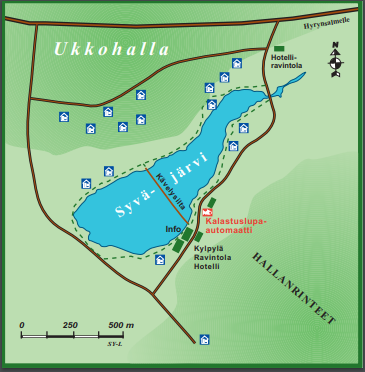 True to its name, Lake Syväjärvi ("deep lake") is steep-sided, with the only shallow water in the bight at the very eastern end. Laid-back fishing from a boat is the order of the day in summer. Several holiday cabins are in fact equipped with a boat. Fishing is easiest from firm dry ground, of which there is plenty bordering Lake Syväjärvi. As the shoreline is largely unbuilt, enthusiastic anglers can walk round to almost any part of the lake to try their luck. It is of course best to keep peace with your neighbours by avoiding use of the piers and gardens of other holiday cabins. However, everyone is welcome to fish or train their cast on the pontoon bridge. Measuring over 300 metres, the bridge connects the cabin village to the skiing resort and can be used to reach rainbow trout further out in the lake. Anglers on the bridge are often seen making a nice catch.
In addition to fishing, there are plenty of other leisure activities available at Lake Syväjärvi. In the winter, your daily programme could include ice fishing complemented by downhill and cross-country skiing or a snowmobile ride. Summertime fun is guaranteed on a speedy wakeboard, pulled forward by a cable track. Those seeking to enjoy the outdoors can follow the signposted hiking trails around the lake, which include a number of resting areas and fire pits.
Fish stock and maintenance
Lake Syväjärvi yields rainbow trout throughout the year. A catch is almost guaranteed, thanks to regular stocking in spring and winter. In addition to salmonoids, anglers are also known to catch pike, perch and other fish.