THE SECTION BELOW THE ÄMMÄNKOSKI RAPID
The section of the Kajaaninjoki below the Ämmänkoski hydro-electric power plant constitutes part of the City of Kajaani recreational fishing area.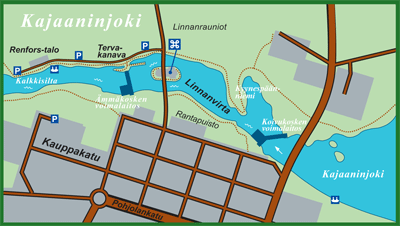 Below the Ämmänkoski dam, the Kajaaninjoki forms an area that is approximately 300 metres long and 50 wide. Although there is a no-fishing zone, fishing is permitted along several hundred metres of the northern bank. A road and wooden pier on the northern bank provide easy access. In some places, stone steps lead down to the water line, giving anglers something to stand on when casting their lines. The southern bank on the city side is bordered by extremely steep cliffs.  The parkway that follows the river nevertheless provides access to one of the most popular fishing spots on the river, located at the water outlet of a tunnel hydro power plant, where anglers might try their luck. This stretch with its extremely steep banks is a productive fishing spot for zander, perch and, on occasion, the largest trout found on the river.
THE SECTIONS ABOVE KOIVUKOSKI RAPID
The 2.5km long stretch of the Kajaaninjoki above the Koivukoski hydroelectric power plant forms part of the Sotkamo fishing region, covered by a joint licence for lure fishing. The provincial lure fishing licence is also valid for this area. A section of the river known as Petäisenniska, around half a kilometre in length, has streamy water widening into a broad pool closer to the city centre.