Starting in East Karelia, this string of small lakes, streams and rapids traverses the almost uninhabited forests of Kainuu.
A short distance from the Finnish–Russian border, the Yli-Vuokki recreational fishing area consists of elongated lakes, small backwaters and rapids. The waters meander through airy pine-dominated heath forest and pine snags. These clear though dark-tinted waters regularly yield handsome perch, which is why the area is a must for all fans of these spiny-finned fish. The rivers connecting the lakes also provide opportunities for white-water fishing. With the rapids stocked with catchable-size trout, a catch is practically guaranteed. Lake Kevättijärvi makes the area even more enticing for anglers – this is an excellent spot for luring landlocked salmon to add to the large perch, trout and whitefish. Yli-Vuokki is located in an almost uninhabited, wild recreational forest encompassing both impressive old groves and younger, managed forest and seeding stands. The Natura areas of Murhisalo and Malahvia are located right next to the fishing area. The Eastern Border Hiking Trail traverses the recreational fishing area. Fire pits and lean-tos have been built close to the rapids. The rental cabins scattered along the shores of the waterway make it easy to find accommodation in Yli-Vuokki.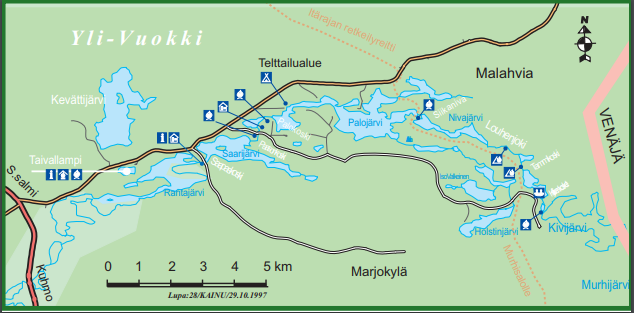 Most sought-after in the Yli-Vuokki lakes is the big perch, with specimens likely to stretch your spring scale well over the kilo mark. Whitefish and zander also inhabit Lake Saarijärvi and Lake Palojärvi. For those interested in luring fish from a rowing boat, Lake Kevättijärvi yields trout and landlocked salmon in addition to large perch. The lake offers boats for hire. Please take into account the limited availability of boat keys. Up-to-date information is available at  www.eraluvat.fi.The ponds in the area are also worth a try. Despite their modest size they have been known to produce surprisingly large perch. Anglers are permitted to cast their lure from the shore or to use their own canoes, boats or float rings. Ice fishing is also permitted. Ice fishers after perch should head for these waters when the first ice of winter is thick enough to bear them, or in the increasing light of spring when perch are more active. These are the times when perch are most eager to bite. Ice fishers should remember that not all forest roads in the area are ploughed in the winter.
White-water fishing
The most popular white-water fishing spots in Yli-Vuokki include the Saapaskoski, Paasonkoski, Palokoski and Louhenkoski rapids, and several smaller rapids. All are short and of a size easy to fish. Catchable-size trout are stocked in the Saapaskoski and Paasonkoski rapids, while grayling is also encountered in small numbers. Grayling is the most frequent catch in the Palokoski and Louhenkoski rapids. A lean-to and fire pit are found by the Louhenkoski rapid. An ample road network mean all rapids are within easy reach.
Further information: www.eraluvat.fi