FLY FISHING FOR BROWN TROUT AND GRAYLING ON FOREST RIVERS
DIY Route for a trout fly fishing in Finland
Brown trout is the golden catch of an eager angler, as this fish really does his best to fight back. If you're looking for a piece of excitement in the middle of untouched nature, Kainuu's rapids and rivers will give you experiences to remember. Here you'll find some of the most useful tips and spots to write down if you're planning on travelling to the wilderness of Finland.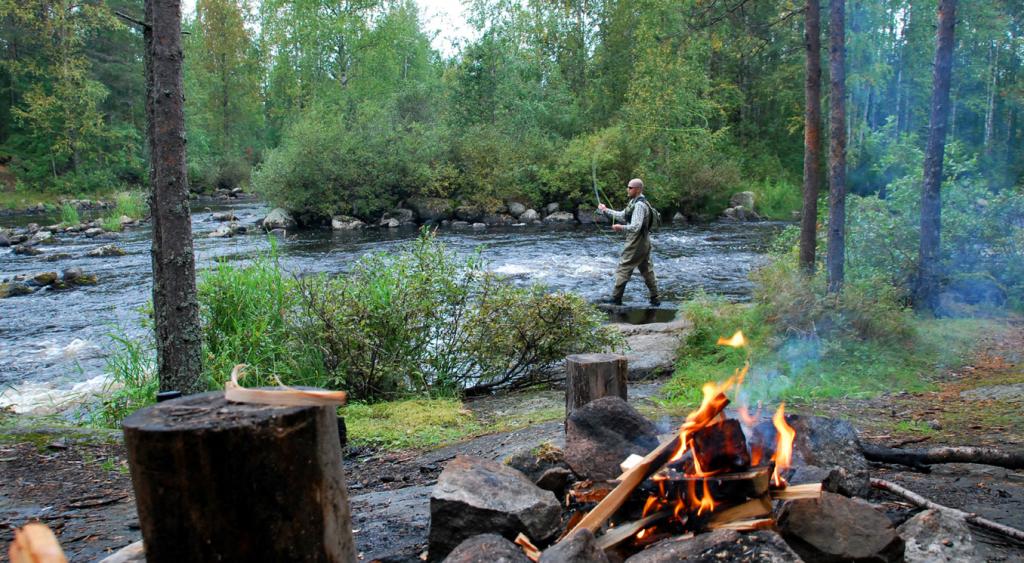 How to catch a brown trout – stay one step ahead of the fish
As a clever buddy, a trout doesn't want to waste time and effort by swimming around too much while preying, so you'll find him lurking behind a rock or some other obstacle that offers shelter from the stream. Keep that in mind when you're casting your fly, especially in spring and fall. Then again, if you're fishing in the middle of the summer, trout will seek for colder waters, as quicker rapids and stronger streams are to his liking. Cooler waters mean more active trout.
Choosing the right fly for trout is the first step. Flies that are generally known to work in these waters are black and green nymph and leach. It's good to test out the bright ones, like red, pink, or white, as well as some down-to-earth colours, such as black and green flies. For dry fly days, make sure to have a few Klinkhamers and caddis flies packed with you. Then again, when the water levels are high, it's a good idea to try out the black/silver streamers.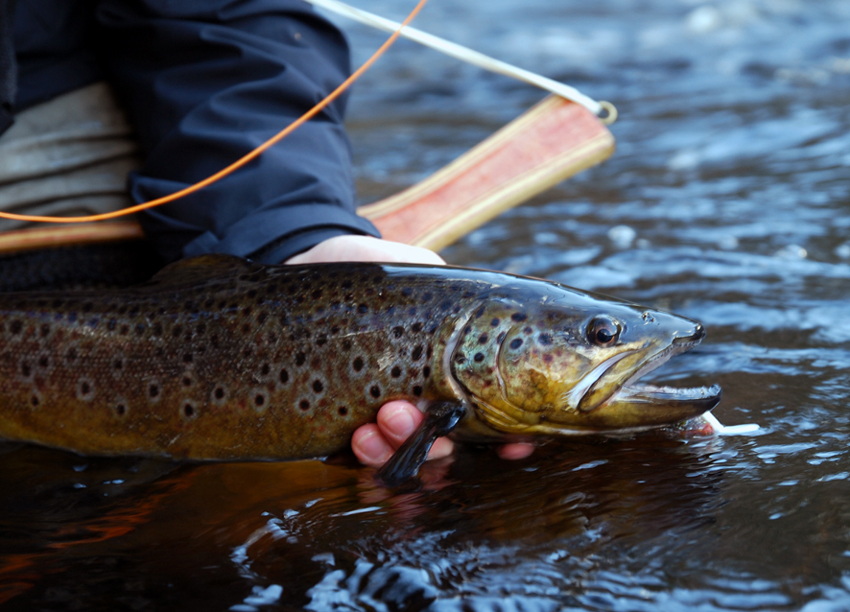 Trout usually bites the fly when it's right in front of him. That's why finding the fish and floating the fly in the right way in the rapid is what really separates the wheat from the chaff. Just be patient and practice, and all will come.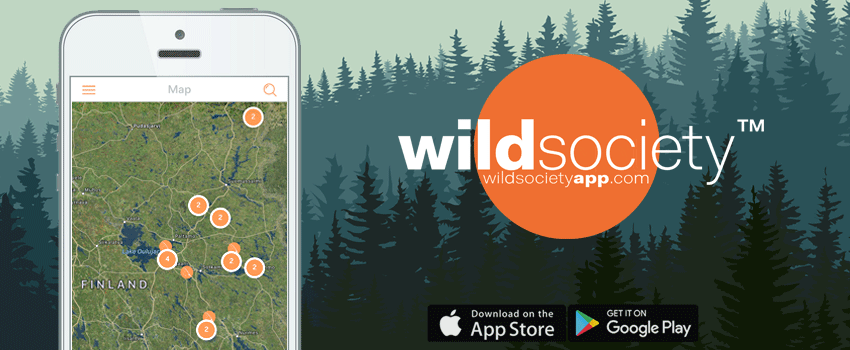 DIY FLY FISHING TOUR: EXPLORE THE BEAUTIFUL TROUT RIVERS IN THE WILDERNESS
Hyrynsalmi and Paltamo area host some great trout rivers around them, surrounded by forests and wildlife. Loads of magnificent fishing spots are located quite conveniently with each other, so you'll be able to explore the most important trout waters during a week of stay if that's the length of your trip. Start your tour from Hyrynsalmi, where you'll find rivers such as Syväjoki and Lietejoki, as well as locals' favourite rapids called Kynäkoski and Luvankoski. After these forest rivers, you can continue towards Paltamo's trout rivers, such as Varisjoki, and its remote sibling, River Kongasjoki. Both destinations are filled with untouched nature, flowing streams and schools of fish, as well as a couple of convenient accommodation options from a cosy cottage to a forest hut in the middle of the nature.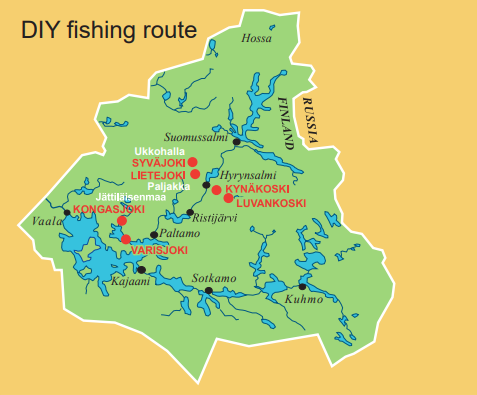 Forest Rivers of Hyrynsalmi
Syväjoki River and Lietejoki River
Rivers Syväjoki and Lietejoki stretch together to offer tens of kilometres of untouched nature with their peaceful fishing waters in the middle of the forest.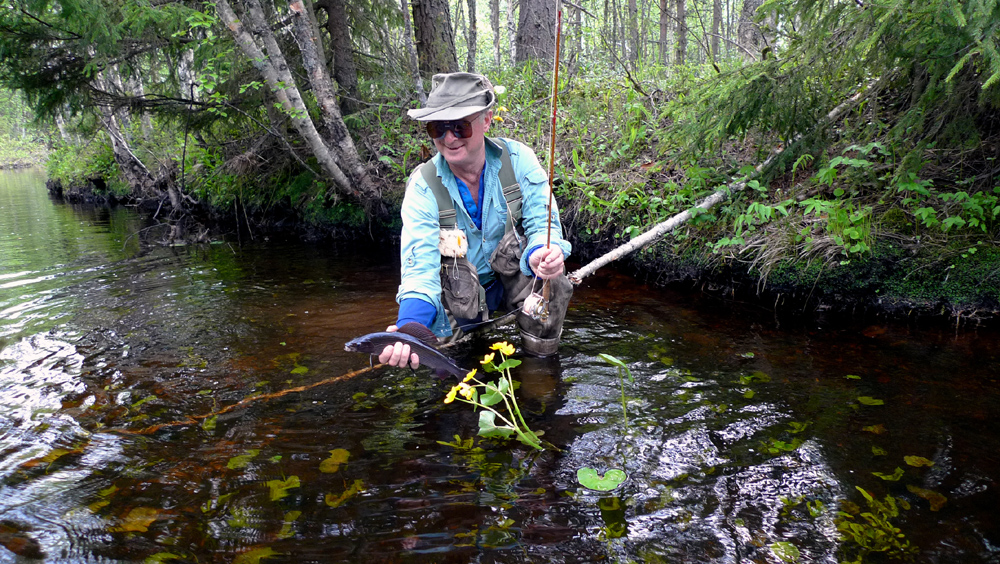 Syväjoki is an excellent dry-fly water with flowing pools and faster currents. It is known as an eco-fishing area where you'll find wild lake-dwelling grayling and wild brown trout. Once your fly gets bitten you can start guessing, which one of them you got – though the odds are on grayling. Brown trout in the River Syväjoki is rather dark in colour and has a special reputation of being the gem of the river, called "Tonko". Tonko is a bit unpredictable and the catches really vary from day to day. That's exactly why getting one of these beauties is very rewarding! In case Tonko happens to be wary on your day even though you presented your best flies for him, just walk a bit to the tail of the rapid and you'll find some grayling loots to focus on.
Efforts to restore the natural fish population are really taken in Syväjoki, and that's why you're only permitted to fish with barbless flies. Anglers respect that by gently releasing most of the catches back to the wild – allowing them to grow large and reproduce generously.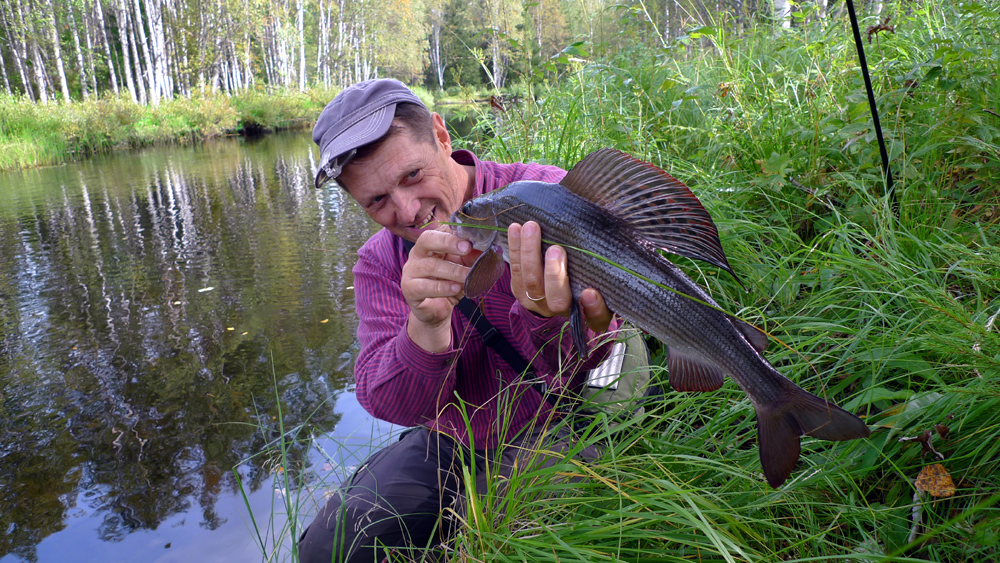 Lietejoki is reserved for lure and fly fishers, and unlike Syväjoki, it is stocked with hatchery-raised fish: grayling population is good as well, but trout is definitely a more common catch. You get to enjoy untouched surroundings and clear waters, which are at their best for fishing when the water is neither too high nor too low.
The Rapids of Kynäkoski
To continue the eco steps of Syväjoki, also the Rapids of Kynäkoski happen to be well-known eco-fishing destinations. Like mentioned above, also here fishing is permitted using barbless flies only, and in compliance with the eco-fishing rules. The speciality of this destination is the possibility to reserve the whole area for your own group in order to experience the luxury of your private fishing day.
Area's small but powerful rapids offer a chance of catching trout, and maybe even some large pike in the pools surrounding the rapids. When it comes to trout, the local's tip is to organize a fishing trip in June, as schools of bleak swim to the rapids to spawn, following hungry groups of trout. A speciality during early summer is fly fishing with big streamers, all the way up to 10–15 cm ones. A floating 'Surffilauta' (=surf board) streamer works well, as the aggressive trout are known for their handsome jumps while chasing their prey.
When the water levels lower and dry-fly fishing improves during summer – especially in August – you'll want to try out some smaller dry-fly patterns and caddis imitations. Remember to watch your steps while you're wading, as the fish might be hanging around right next to the river bank! And the last tip for these waters is this: prepare two rods with you, a strong rod, and a lighter one for the smaller flies.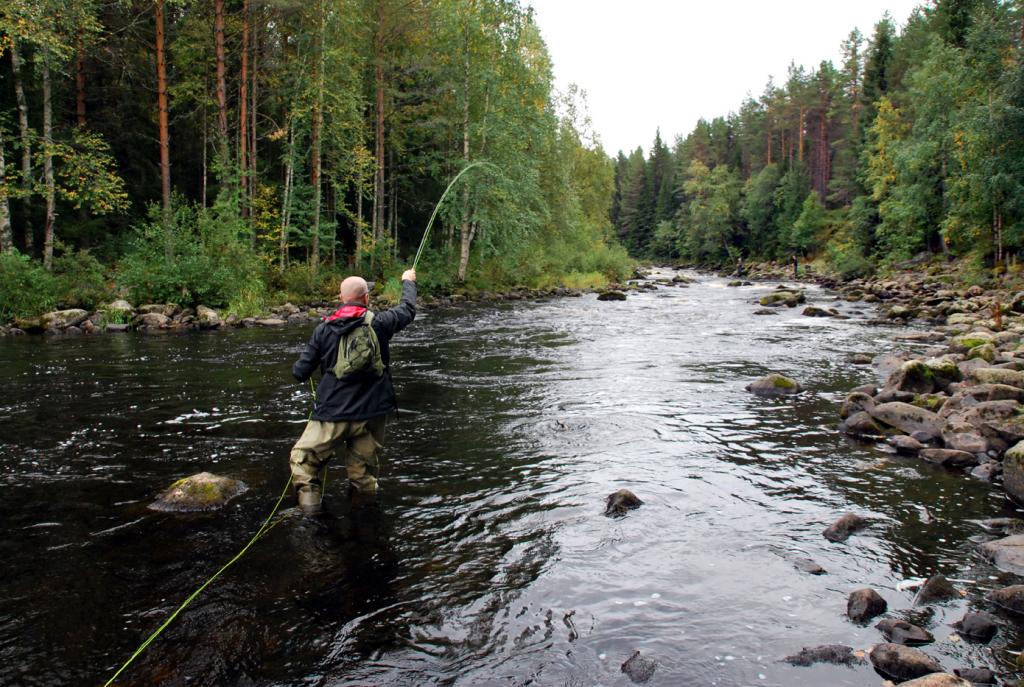 Rapid of Luvankoski
Luvankoski is a traditional brown trout rapid, which is very much to local anglers' liking with its cascading steps and sections of swift currents for fish to find shelter. Located between two lakes it creates a perfect spot for lake-dwelling trout to prey and flourish. The rapid is steep and the current is strong. There are some popular hot spots for trout seekers that can be found next to the large boulders and the watermill. This place is renowned for the great beasts that some of the talented (or lucky) anglers' have caught.
The next stop is…Paltamo!
After exploring the forest rivers of Hyrynsalmi, head your car towards Paltamo and start from the River Varisjoki, which is another great option for trout fishing.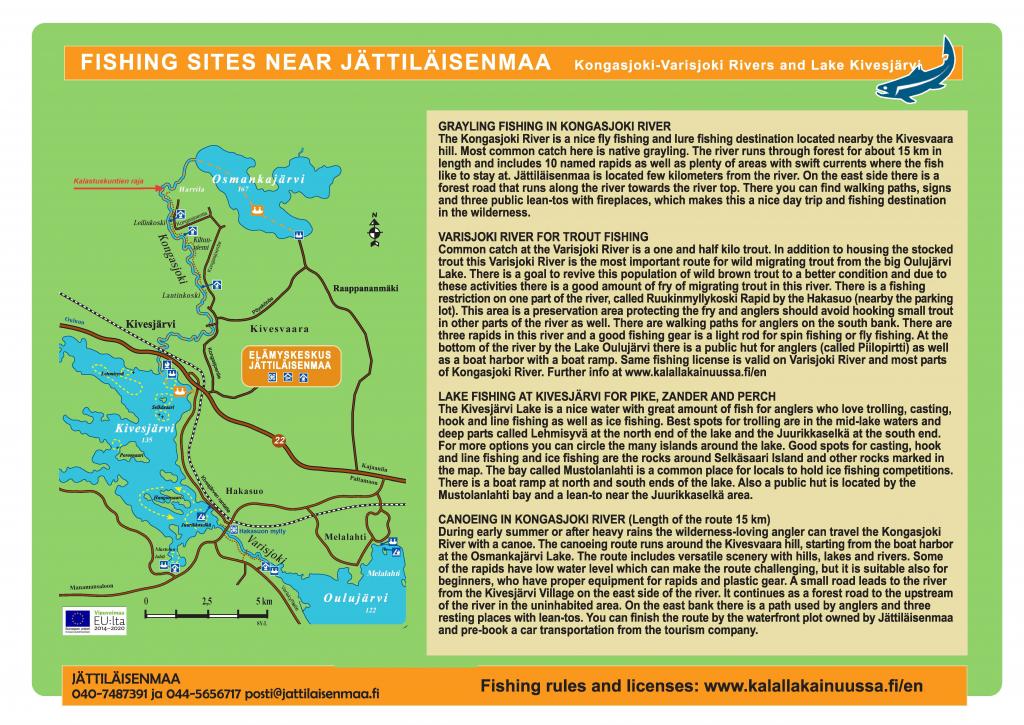 Varisjoki River
The Varisjoki River  holds three different rapids along the three-kilometre-long stream. Before planning your day, remember to check out the parts of the river that are restricted from fishing. The historical mill of Hakasuo is a great spot to park your car and to get the day started.
We'd recommend packing the fly-fishing rods between 5–7 weight, with sufficiently strong leaders to play the trout. And in case you're an eager bird watcher, be prepared to spot the numerous owl and falcon species thriving around the river. You can expect to find some lake-dwelling trout that's size is catchable during numerous times of the season. From the lower reaches, you'll find a hut that is open for anglers to have a break and a sip of coffee in the middle of nature.
Kongasjoki River
Next to the River Varisjoki flows an even more remote river called Kongasjoki, which is at its best as a grayling destination. It has about ten different rapids and various flowing pools for anglers to try their skills. There are also a couple of cute overnight options close to the rapids of Leilinkoski, Kiltunniemi, and Lantinkoski to stay at the "kota" huts that are open to all who are up for some camping. In addition, a hiking angler will enjoy the River Kongasjoki due to the true wilderness and numerous birds among other wild animals living around the area.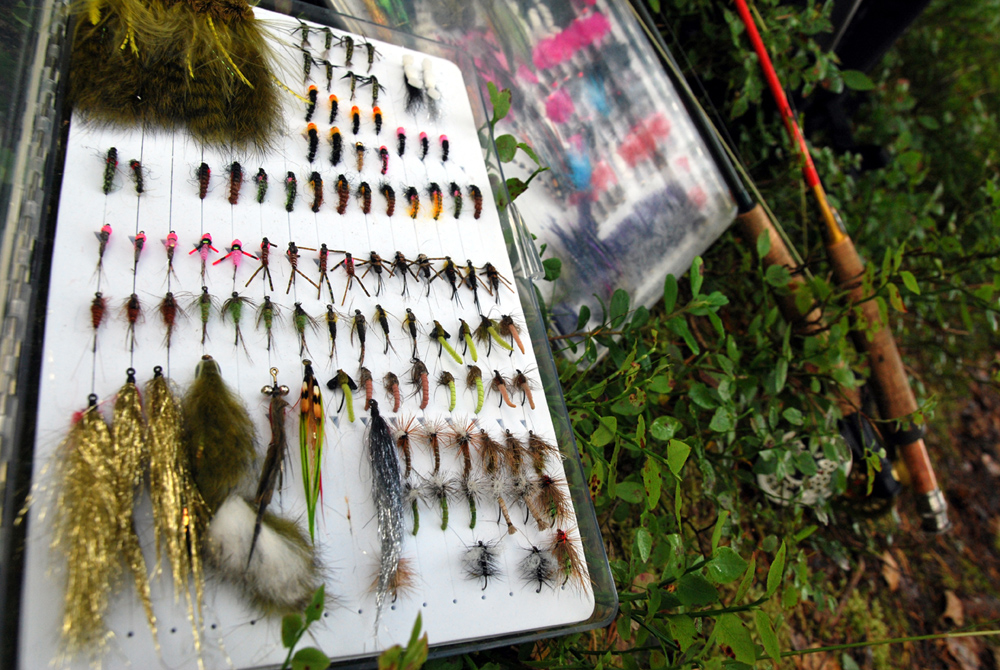 Get a flight – crab a car – and GO!
Catch a flight to one of the nearest airports, which are either in Kajaani or Oulu. Rent a car and have it delivered to the airport. Drive towards Ukkohalla in Hyrynsalmi, which is about an hour drive from Kajaani via road E63.
Ukkohalla offers a comprehensive set of services from accommodation to different activities, including an exciting cable wakeboard park. The location is perfect, situated in the middle of stunning nature and numerous rivers and rapids mentioned above. From there it is convenient to fix daily fishing trips to the best trout spots around.
After experiencing the nature and activities of Hyrynsalmi, head towards Paltamo via E63, and navigate to the place called Jättiläisenmaa, which is a cosy accommodation option offering trails into the wilderness, as well as magnificent bird watching opportunities right on the front door. Rivers Varisjoki and Kongasjoki are easy to access from Jättiläisenmaa. So prepare your rods and pack your favourite flies –rapids and rivers are waiting to be explored.