FISHING AROUND THE CLOCK FOR YOUR RECORD BREAKING ZANDER AND PIKE IN THE NORTH 
DIY Fishing Route on the vast peaceful lakes of East Finland
Every angler's bucket list should include the pristine waters of Finland. The country of thousands of lakes isn't called that in vain – though hundreds of thousands would be more accurate. If you're planning on giving your lures some good swim in the pure lakes of Finland, you're in the right place. We're introducing some of our favourite fishing spots and lakes in Eastern Finland. Here you'll find all you need in order to plan a memorable do-it-yourself fishing trip, including some tackle tips and independent travelling instructions.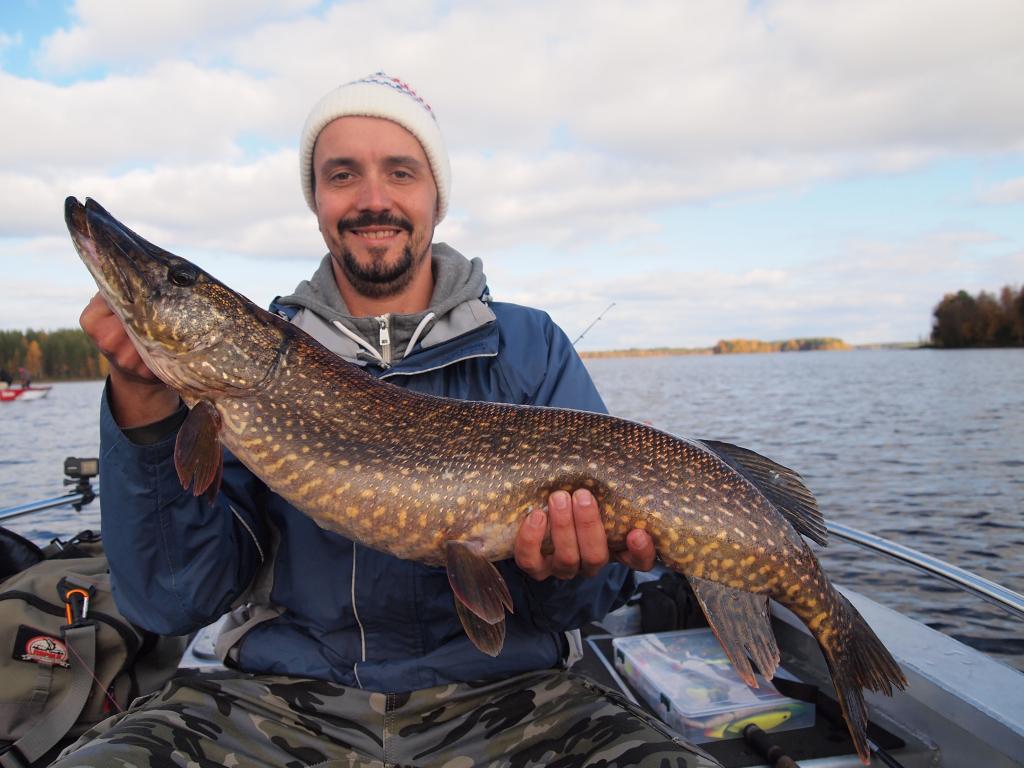 The lakes are not only beautiful – they're also rich in fish
Kainuu area in Eastern Finland is one of the best places to enjoy Finland, as the area is full of lakes and wild nature. Not to mention the numerous outdoor activities! Let's have a closer look at Nuasjärvi in Vuokatti, Lentiira Lake in Kuhmo and Oulujärvi in Vaala, which are located quite conveniently, not too far from each other. You can easily access all of these lakes during a week of stay. Pike and zander are one of the most common catches in these lakes, so breaking your records is definitely more than just a title. In case you're feeling adventurous and want to explore even more, the area is full of other lakes and ponds to visit as well. We'll also reveal some great accommodation tips that have specific knowledge of their waters and fishing opportunities in the area.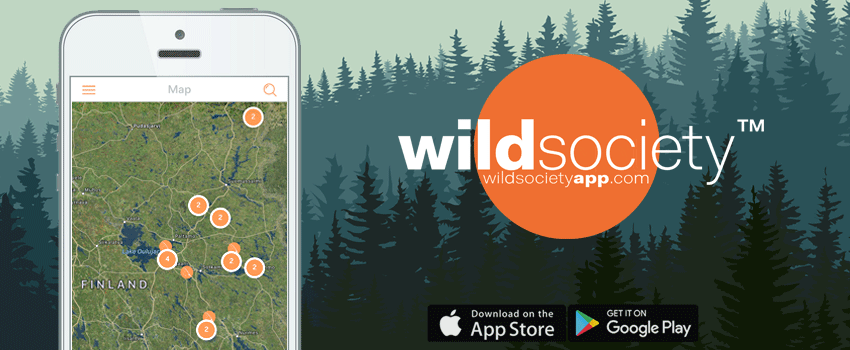 Pike, the toothy predator of our lakes
Pike lives in nearly all of the lakes in Finland, but obviously, some waters are better than the others. The spawning season of pike is in the spring, and the fishing season continues until autumn. In some places you can enjoy some good pike catches even in the heat of summer, though the biggest fish escape the warmth into colder depths. However, due to mild summers in the past years you most likely don't need to worry about the heat. If you're travelling in spring or autumn, the best way to get pike is casting or trolling. A good tip to keep in mind is to make sure to reel-in or troll slowly enough. You can fish for pike in the lakes even with fly fishing gear. A good fly for pike is big, colourful or golden streamer.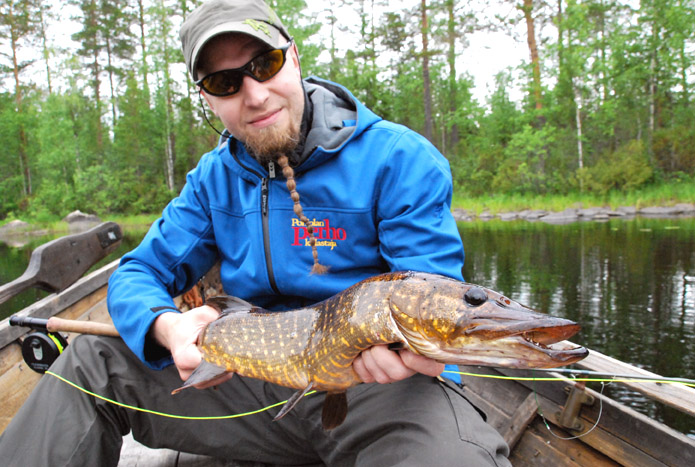 Prepare to play
When it comes to the tackle, keep in mind that pike is strong and you should be ready to play it properly. So prepare yourself with a slightly stronger equipment – particularly the line should be thick enough to hold a playing fish. Don't forget to attach a proper leader, otherwise your pike will bite the line before you know it. The best baits are the ones that imitate the movements of small fish and trick the big guy to chase your wobbler.
Find the spawning grounds of the loyal zander
Zander is one of the most delicious fish found in Finland, and the mild taste of it allows hundreds of different recipes to enjoy the catch. Zander likes lush and warm lakes that warm up quickly in the summer. This predator loves hunting smelt among other small fish, so once your fathometer finds schools of fish, you're likely to find some zander chasing around. Troll fishing season for zander starts in May and is at its best during the holiday season from June to August, when the fish is active. Zander is known to be very loyal to the familiar spawning areas, so it's good to find out the best spots in advance.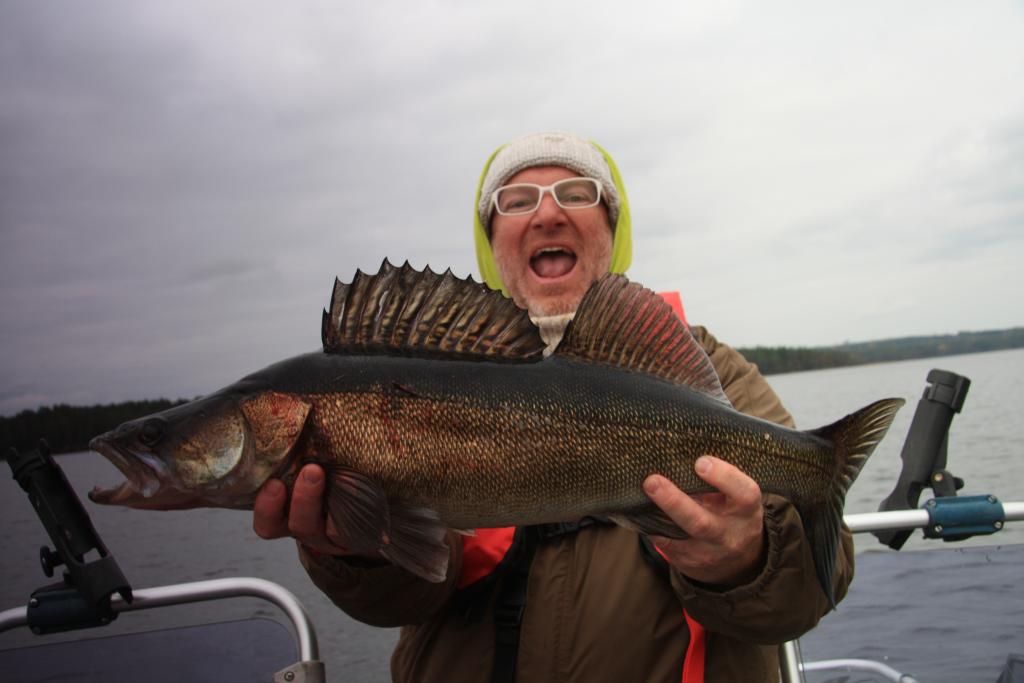 Nightless night is the most active time for big zander
When choosing your equipment, keep in mind that during the daytime zander stays near to the bottom, but rises up close to the surface to feast in the evening. Even though mornings and evenings are the best times, zander might also eat during the day if your lure is swimming carefully close to the bottom. Particularly jigging works also in the daytime.
Mid-summer is magical and excellent time for zander fishing in Finland. As the sun doesn't set and you can fish throughout the nightless night when zander is most active.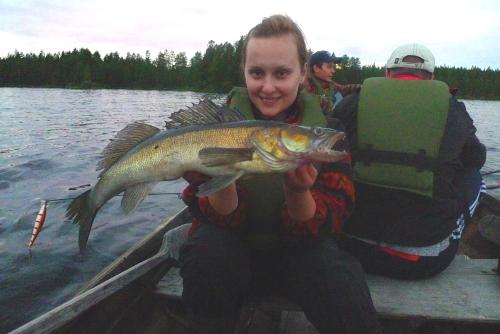 Pack a nice set of jigs
For the nightless night trolling might be the most effective tactic . But for the day time jigging works best.
Jigging is actually a popular way to catch zander in Finland in these days, due to the fun and action the method provides. When it comes to these lakes and jigs, bright colours seem to work pretty well. Pack your yellow, pink and green jigs with you! Remember not to use too big lures as zander eats quite small fish (about 7–12cm). If the colour you're using doesn't work, try more discreet colour instead: e.g. white jig does a good job imitating some of the zander's prey fish. When jigging zander, the tackle shouldn't be as strong as spinning for pikes, as you need a fair amount of responsiveness to feel the fish bite. The quicker you jerk the rod the better, because zander is more likely to have a little taste of the jig instead of swallowing it, like pike does.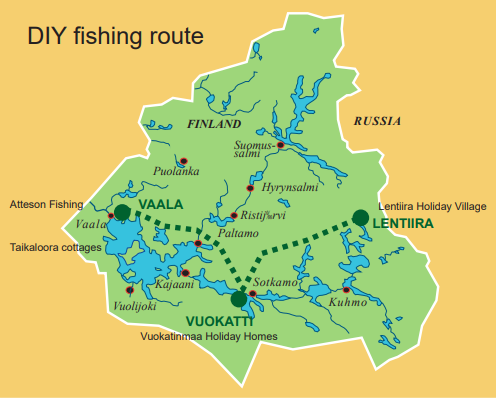 RECOMMENDED ROUTE FOR DIY FISHING TRIP
Lake Nuasjärvi
Catching a big pike in the east end of Lake Nuasjärvi is not uncommon. In case you're travelling in spring, make sure to experience the legendary spawning ground in the north of Rimpilänsalmi, since during that time the bay will be full of pikes. A local fishing legend's tip for the east Nuasjärvi is to use green-coloured lure which should be forced as deep as 6–8 meters. For more tips for great hot spots for catching pike and zander see these maps.
So whether you'll decide to visit one or all of these three lakes, you'll have a great chance to meet up with some fairly big pike on your way.
As mentioned, the east part of Lake Nuasjärvi is a great place to catch pike, but the good news is that you'll find zander there too: the Katinkulta ramp in Jäätiönlahti Bay is actually one of the spawning areas. In the middle of summer it is better to head to the middle, between Petäjäniemi Point and Kärjenniemi Point, where large zander catches are very common.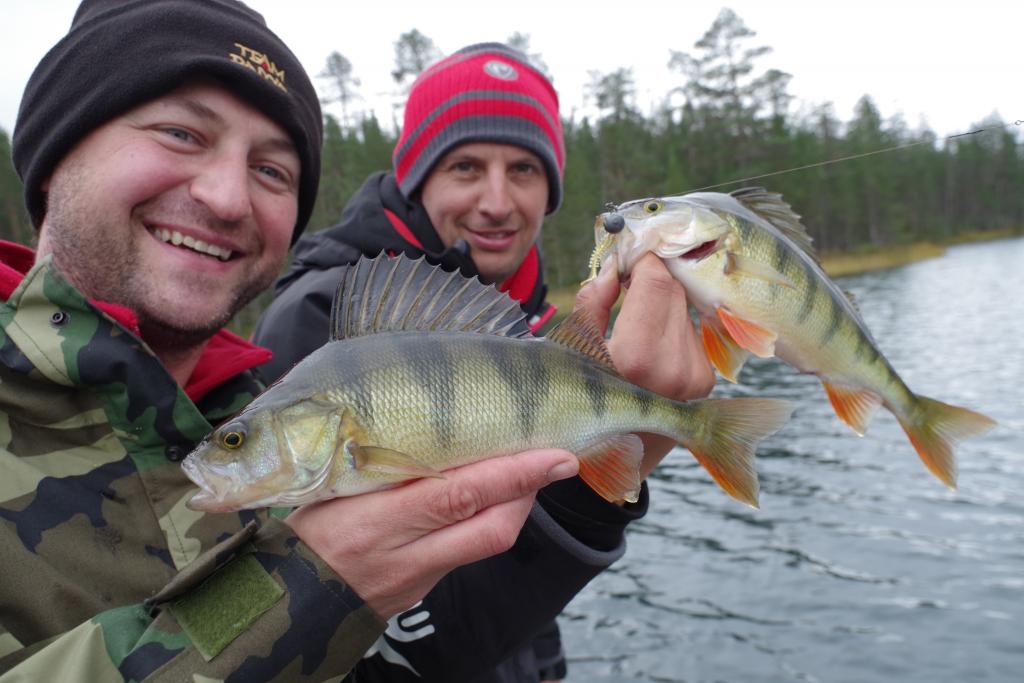 LENTIIRA
Next stop on our DIY Fishing Route is the Lentiira Lake in Kuhmo. The lake is known to have pike as one of the most common catches as well. You can catch smaller pikes close to the shore, whereas the big fish hunts in the open lake (prepare with bigger lures for them!). Lentiira Holiday Village is situated right by the lake on a beautiful location.
Towards the west end of the Lentiira Lake, the water gets more narrow and resembles more of a river than lake. The narrow end has plenty of good hot spots to catch fish.
OULUJÄRVI
On your way back towards west you find the big Lake Oulujärvi. It is an amazing fishing spot, since pike is quite generously distributed throughout the lake, and it bites even in the heat of summer. Oulujärvi is the 4th largest lake in Finland, and it's a great place for fishing: the lake even hosts an annual European pike trolling championship in the beginning of summer.
Lake Oulujärvi is plentiful in zander, due to the massive population of small fish called smelt in the lake, and that happens to be zander's favourite dish. If you're trolling, aim the bow of your boat towards the eastern part of this lake, where zander might be even more common catch than pike is.
How to get here
Drive through the nightless night
How to get here? The nearest airports are in Oulu and Kajaani, and the transfer flight is most likely in Helsinki. You can rent a car and have it delivered to the airport and drive to the destination. Oulu is a little bit further from these lakes. The drive from Oulu to Vaala and the Lake Oulujärvi is less than one and half hours, whereas in Kajaani you'll be literally next to both Lake Oulujärvi and the Lake Nuasjärvi. All of the lakes are located in convenient driving distance from each other, between one to two hours drive.
If you're travelling with your own boat trailer, the best option is to take a ferry to Helsinki and drive 7 hours all the way up to Kainuu.
Don't be scared of the distance: Finnish roads are very good and full of convenient driving break spots. In addition, if you'll decide to travel during the late spring or early summer, you can enjoy the 24/7 daylight during your drive.

Travelling story:
Polish group enjoyed their fishing trip to Eastern Finland
We were pleased to meet a group of Polish fishermen during their fishing trip. The group drove from Helsinki to Kajaani via road number 5.
They started their trip in Vuokatti. The next destination was Kuhmo, which is just one and half hours' drive away. In Kuhmo they enjoyed the traditional pike hamburgers at the marketplace, which they highly recommend!
On the way to their last fishing destination in Vaala, the group stopped at the Kontiomäki Shell to buy some new lures, as the Shell is known for their good lure selection. After their successful experience, they took the road number 4 and drove back to Helsinki through the nightless night.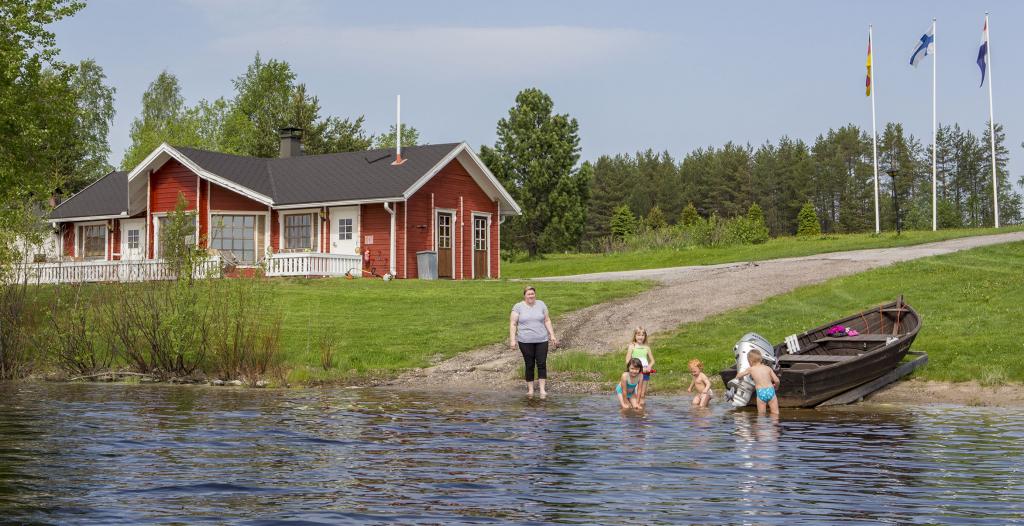 Where to stay
Lentiira Holiday Village in Kuhmo – fishing tips and equipmentYou can either stay in a holiday cottage or at the campsite. Whatever you choose, the place is perfect for fishing, and you'll get to enjoy cosy atmosphere in the middle of pure nature. Holiday Village arranges visas, local fishing license, and the fishing equipment if needed. The rental boats are also available, and the owners know their waters, so you'll get some valuable fishing tips. Another option for accommodation in Kuhmo is fishing hotel,  Hotel Kainuu in the centre of village.
Vuokatinmaa Holiday Homes offers a touch of luxuryOnce you're in Vuokatti area enjoying the fishing spots of Lake Nuasjärvi, Vuokatinmaa Holiday Homes is a great choice. Their luxurious holiday apartments and villas are like no other, offering the convenience of a luxurious apartment right next to the activities of nature. They're prepared for enthusiastic anglers, which means that you can rent fishing equipment, spinning rod, trolling rods, and lure sets. There's also a possibility to rent a boat (please make sure in advance).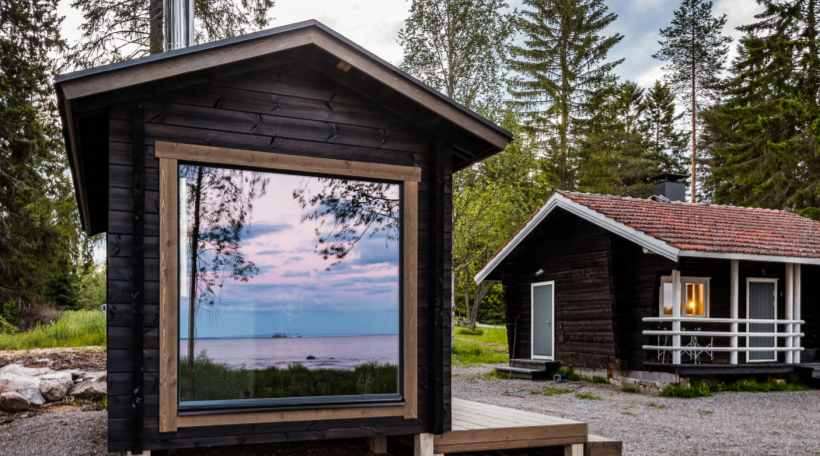 Taikaloora and Atteson Fishing in VaalaOulujärvi is a lake you don't want to miss out, and Taikaloora's cottages (or bed & breakfast option) are perfect for the purpose. Owners of the place are a Finnish couple who love nature. Especially the husband, Terho, is an enthusiastic fisherman who knows all the hotspots of the waters. He'll provide all the arrangements you need for your fishing holiday, including rental boats and a canoe.
Atteson Fishing arranges trolling safaris with their superior boa that is perfectly equipped for trolling. They know the lakes and the hot spots to catch fish as their own pockets!