Herman August Renfors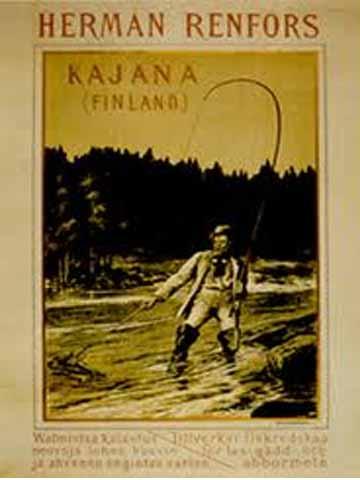 Herman August Renfors (1849–1928) was something of an all-rounder, a manufacturer and town councillor who spent much of his active life in Kajaani.
When Herman Renfors was five years old, his widowed mother Anna Gustava Wahlgren moved to Kajaani with Herman and his three siblings. Renfors started his career as an apprentice with a watchmaker, later working at machine shops in Pori and St. Petersburg. In 1870, having returned to Kajaani, he began manufacturing lures and other sport fishing equipment. Renfors founded a grindery in 1876, manufacturing jewellery and buttons. He expanded his business to fur products in 1880, also establishing a branch store in central Helsinki which specialised in the retail trade of sport fishing equipment. Renfors also depended on his sister Maria, who provided background support for his business. Maria Renfors had travelled as far as England to acquire training in fly tying. Eeva-Kaarina Aronen published a book about Maria Renfors in 2005, entitled Maria Renforsin totuus, which combines fact with fiction. The book was translated into German in 2007.
Items of fishing equipment manufactured by Herman and Maria Renfors have sparked the interest of today's collectors. With as many as 50 patents to its credit, in its time this equipment was familiar to anglers as far afield as America and Japan. Apart from his work as a town councillor, manufacturer Renfors took an active part in public affairs, contributing to the foundation of vocational schools and establishing a railway connection to Kajaani. From 1892 until 1893, he chaired the district relief committee. He also took numerous photographs of the old Kajaani, and promoted local ski sports and tourism.
On 12 May 2007, a memorial commemorating Renfors was unveiled by a local artist and local entrepreneurs. This memorial is an exact copy of a Devon lure manufactured by Renfors. Todau, a trail for outdoor recreation, named after Renfors, follows the banks of the River Kajaaninjoki.