Ritva Feels at Home in Hossa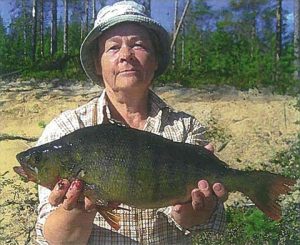 A 1.6-kilo perch won Ritva Hakkarainen first prize in the big fish competition organised by Urheilukalastus, a Finnish sport fishing magazine.
Originally, Ritva joined her husband on a fishing trip to Hossa just to keep him company. "I was immediately hooked. I was particularly impressed by Hossa's wild and varied nature. Not only did we have a lake close by and a series of small rapids to fish on, we sometimes found blueberries and cloudberries that we could pick," says Ritva.
The highpoint of the trip, however, was the catching of a perch that weighed as much as 1.650 kilos. Ritva caught the fish on Lake Hossanjärvi in mid August. This monster hit an eight-centimetre-long Nils Master Invincible wobbler. Ritva also loves to fish for perch using an ordinary rod and line, baited with a combination of ice fishing lure and worm. "Once you let your bait sink down to the bottom, you'll get a bite straight away ─ if the fish are in a feeding frenzy, I mean. In Hossa, that's often the case. The action will normally start at 12:30 pm and last about half an hour," says Ritva, giving away her secrets.
Her favourite fishing spots for white-water fishing are along the River Hossanjoki. That's where she caught her largest trout to date, a handsome fish of 45cm. The trout bit on a brownish Lotto spinner. "I generally use spinners when fishing rapids, Mepps as well as Lotto," she says.
Ismo Malin, Urheilukalastus magazine